About
The term 'cordwood' is simply another way of saying firewood. The wood we smoke is harvested from the landscape of northern Michigan, so the resulting flavors are truly characteristic of the region. With a focus on freshness, we use seasonal ingredients from area farms and make sauces fresh in-house. Every time the Cordwood BBQ gets fired up, you know you're about to enjoy some of the finest smoked meats around!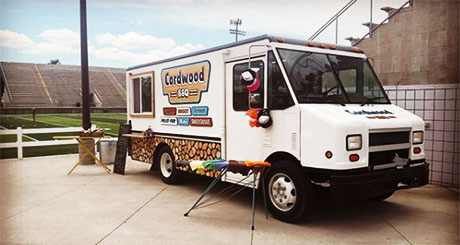 Catering
We cater events — anything from birthday parties to weddings. Most often, we provide food for delicious office lunches. Check out the catering menu. The food truck stays put at the Little Fleet all summer, so our catering setup is an inviting buffet layout. Please email us with catering questions: info@cordwoodbbq.com
Pickup location for bulk orders is at Center City Kitchen, our commissary kitchen, at 767 Duell Road in Traverse City. This allows people to skip the line at the busy food truck. The menu for bulk orders is the catering menu, not the food truck menu.
Three levels of catering service... Backyard BBQ $15/person + tax and delivery - menu limited Cordwood Experience $29/person + tax and service fee - standard menu, staffed Cordwood Custom Cost dependent on menu and level of service
Catering request
Pre-order Pickup
If you're looking to host a party or feed the office, go for the pre-order. You can easily pick up your order at the food truck.